Is it too early to be talking about planting? Perhaps, since there's about a foot of snow on the ground when I'm writing this. (I'm writing this post in advance but I'm 90% sure there will snow from here until September. What the actual hell?) I can't help it. I'm dreaming of warmer weather while I snuggle under the heated blanket.
Last year I tried very hard to plant flowers & herbs and keep them up. But after I was done I hated what I'd done outside & somehow the herbs all died. Well it's a new year & I get a new try as soon as the weather warms up. I've been pinning a lot of inspiration lately because I really want to give it a hard try - I love the look of greenery & I want to have it both inside and out. We've got two big windows at the front of our house & I sit in front of one at my desk so putting some greenery in there would really make the most of these windows! Here's some of my inspiration:
This
tutorial
form
All Things Heart & Home
really has me inspired to spruce up plain, terra cotta pots instead of spending zillions on fancy pots. I think this is going to be my go to pot style of choice I think.
I like that tutorial above because I really want to make this
Herb Tower
(found on
Martha Stewart
) for our deck of the kitchen. I think it would be great to step outside, grab some herbs, & keep on cooking!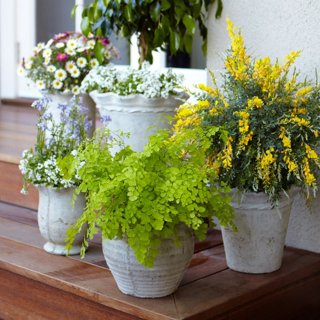 And I love the look of these aged pots in
this post
! Good thing I found a way to spruce up plain ones right? I'm hoping I can find affordable ones to age so I can have an arrangement like this around an entry way. I'm thinking about doing something near our side door with pedestals so there can be some varying heights with the varying plants.
This is what I'd like the front of our garden to look like
. Currently we have a big space for planting & it has four large hostas in it. But at the front is like a little sub-planting area & I want to add a bunch of plants that will over spill from the box to give fullness. I need a gardener.
I also just want plants
everywhere in the house.
I'm much better at taking care of those, even though I still suck at it! Sorry plants! I love the random assortment of things going on here & am thinking about adding all the plants I can find to the windowsill above my desk!
What are you planning for the warmer weather?
xoxo, Moe