Hey there everyone!!! Just popping in to do a little post on the new things in my Etsy shop! I've been slacking on a lot of things lately...and it really does bother me. But it's one of those things that I can't force. I have to wait for inspiration to strike me again. I'm always on Instagram though (follow me here
@fivesixteenths
). I find that Instagram is an easy way to get my
blogging
fix with out the crazy commitment. But I have been active in updating my
Etsy shop
....sort of. Here are the new dividers and the newest printable sticker set! Here we go:
Six new divider sets! They are unpunched so they can fit in any system you have that is personal sized. I love these! Some of these are perfect for a wedding planner, others are perfect for a recipe planner, and others just bring some fun summer time brightness to your planner!! The patterns are so different and I really like all of them (I hope you do too!) Find them all
here
.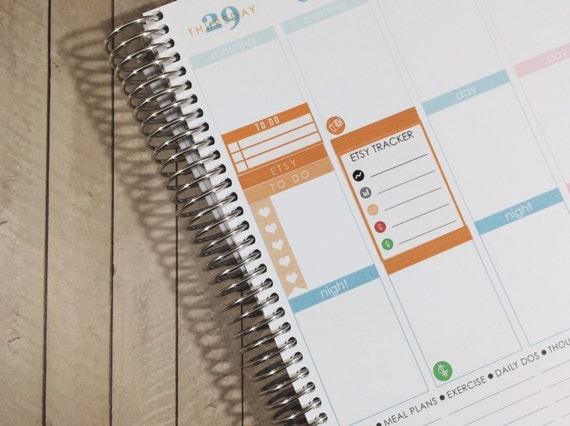 And then here is an
Etsy tracking sticker set
!! I love that it is all orange so you definitely know what you're tracking. There are header stickers, a to do box, a to do check list banner, money markers, cameras, and an full box tracking sticker. You can use the icons on the tracker box for whatever you want - I use it as views, orders, shipments, money out, and money in! Find all the sticker sets
here
.
I hope you like all the things in the shop!! Let me know if you'd like to see anything else!
xoxo, Moe